Voter Info Search
LocatePLUS offers the most innovative search technology available in the industry today. With multiple person search options, LocatePLUS is the most complete and comprehensive skip tracing tool on the market.
Person Searches
With only a name, social security number or even just an address, LocatePLUS' Person Searches are able to cross reference billions of records to give you all the information you need to carry out your investigations. Our skip tracing tools combine data from countless sources to create the most comprehensive blend of information on the majority of the U.S population.
A name is just the beginning of an investigation. Our person search gives you the tools necessary to pull pieces of information together aid in locating your subjects. Once you've identified your subject, select any of LocatePLUS' other searches or order comprehensive report to provide a full picture of your target's profile.
Email
Even with partial information on a subject, we are able to retrieve an email address that is linked to that individual. When available, we provide you the last date the email was reported, a phone number as well as an IP address for easy geographical tracing. With our reverse email search, you can instantly link an email address to a person and their addresses.
Social Media
With social media sites being more popular than ever, there is a good chance the person or business you are looking for has subscribed to one of these sites. With the LocatePLUS Social Media Search, we combine over 100 social media sites including Facebook, Twitter, Google+, LinkedIn and many more into one, easy to use search. Click Here for more information.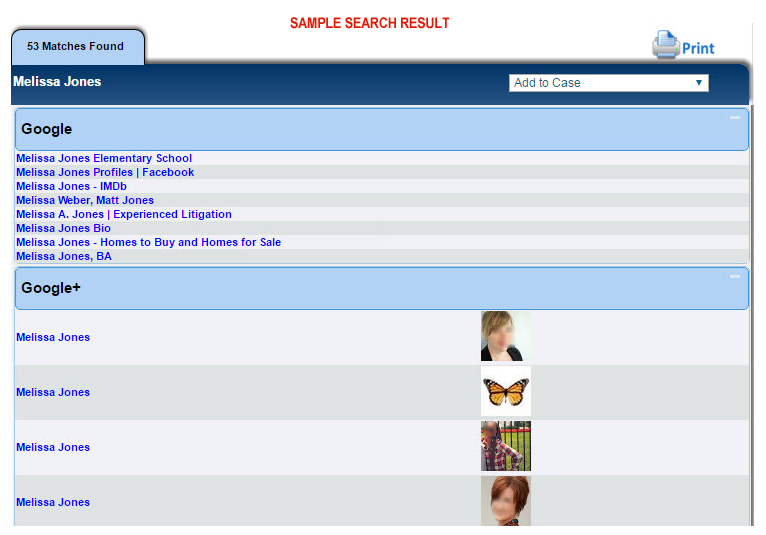 Social Security Number Verification
Our SSN verification provides the state of issue, date of issuance and the status of SSN's issued prior to 2011. Due to the Social Security Administrations switch to "Randomization" on June 25, 2011, Social Security Numbers issued after this date cannot be verified as having been issued or not.
Death Records
Simply enter a full SSN through our death record search to determine if your subject is deceased. Deceased record searches generally return – SSN status, first and last name, date of birth, date of death and last known location.
People at Work
When investigators are looking for someone to collect a judgment, child support, repossess assets, confirm infidelity etc., LocatePLUS can access millions of the latest employment records. Instantly find current and historical employment information on your subject. Results typically include a person's name, company name, first & last date seen, position held, phone number and address information. Click Here for more information.
Marriage/Divorce
LocatePLUS gives you full access to marriage and divorce filings. Search by – first name, last name and state to get started. Results include full name of parties, state, records type and date of record.
Neighbors
If you have an old or current address for someone, but have been unsuccessful at contacting the person you are looking for, neighbors can often provide information to assist you in finding your subject. After locating possible neighbors, they will often times confirm whether or not the person still lives at the given address, their move out dates, etc.
Relatives
Sometimes the best way to locate your subject is to speak with relatives to find out where he/she may be. Regardless of the reason, the process to find relatives is usually extremely difficult. With LocatePLUS' search technology we can match individuals to relatives using various methods.
Common Residency
With our common residency search you can determine who your subject has shared a residence with. Even seemingly unconnected individuals can be determined if they have a residence that is common to their residency patterns. We can locate roommates, family and more with this powerful search.
Voter Registration Information
The voter registration search provides voter records by accessing current and historical voter information on your subject. Typical results include address, political party, voter status, date of birth and registration date.